Winmer
Aqua Eel Pokémon

Basic Info

Type
Water/Fairy
Abilities
Shed Skin

Marvel Scale

Evolves From
Merny
Evolves Into
Poseidess

Additional Info

Held Items
Blue Shard
Egg Groups
Water 2
Hatching Time
-
Catch Rate
190
Gender Ratio
25% male
Height
1 m
Weight
25.5 kg
Leveling Rate
Medium-Fast
Base XP Yield
90
EV Yields
+1 Sp. Defense

+1 Speed

Pokédex Color
Blue
Winmer is a dual-typed Water/Fairy Pokémon. It evolves from Merny starting at level 30 and evolves into Poseidess starting at level 43.
Pokédex entry
Edit
When a group of WINMER engage in a race, they are near impossible to see, when looking down on the water surface. They are extremely loyal POKéMON.
Base stats
Edit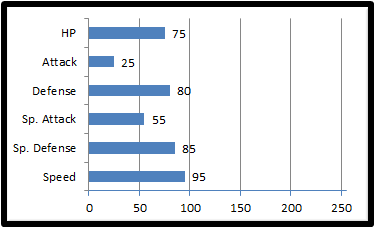 Base Stat Total: 415
Game locations
Edit
Routes 105, 106, 107, 108, 109, 114, 115, 118, 119, 121 (Surfing)
Various other bodies of water, through surfing or fishing.
Type effectiveness
Edit
Damaged normally by:
Weak to:
Immune to:
Resistant to:

Normal

Flying

Ground

Rock

Ghost

Steel

Psychic

Fairy

Digital

Poison

Grass

Electric

Dragon

Fighting

Bug

Fire

Water

Ice

Dark

Cosmic
Learnset

Edit
Bold indicates a move that will receive STAB when used by Winmer.
Italic indicates a move that will receive STAB when used by an evolution of Winmer.
Moves by leveling up

| Level | Move |
| --- | --- |
| 1 | Bind |
| 1 | Agility |
| 1 | Double Team |
| 1 | Water Pulse |
| 36 | Calm Mind |
| 41 | Glitter Beam |
| 48 | Hydro Pump |
Moves by TM/HM

| TM/HM | Move |
| --- | --- |
| TM03 | Water Pulse |
| TM04 | Calm Mind |
| TM06 | Toxic |
| TM07 | Hail |
| TM09 | Glitter Beam |
| TM10 | Hidden Power |
| TM13 | Ice Beam |
| TM14 | Blizzard |
| TM16 | Light Screen |
| TM17 | Protect |
| TM18 | Rai Dance |
| TM20 | Safeguard |
| TM21 | Frustration |
| TM23 | Iron Tail |
| TM27 | Return |
| TM29 | Psychic |
| TM30 | Shadow Ball |
| TM32 | Double Team |
| TM33 | Reflect |
| TM34 | Shock Wave |
| TM40 | Aerial Ace |
| TM42 | Facade |
| TM43 | Secret Power |
| TM44 | Rest |
| TM45 | Attract |
| HM03 | Surf |
| HM07 | Waterfall |
| HM08 | Dive |
Moves by breeding
Move
Light Screen
Present
Amnesia
Future Sight
Perish Song
Supersonic
Substitute