Tindle
Candle Pokémon

Basic Info

Type
Fire
Abilities
Blaze
Evolves From
None
Evolves Into
Emburdle

Additional Info

Held Items
None
Egg Groups
Mineral
Hatching Time
~5355 steps
Catch Rate
45
Gender Ratio
87.5% male
Height
0.8 m
Weight
15.4 kg
Leveling Rate
Medium-Slow
Base XP Yield
65
EV Yields
+1 Sp. Attack
Pokédex Color
White
Tindle is a Fire-type Pokémon. It evolves into Emburdle starting at level 16, which evolves into Candelax starting at level 36, which evolves into Coilaze when exposed to a Legend Stone.
It is one of the three starters given by Prof. Birch, the others being Leguis and Tadish.
Pokédex entry
Edit
TINDLE's insides are constantly producing wax, as the flame on its top melts the wax away. TINDLE leave a trail of hardened wax, which is somewhat near impossible to break or even melt.
Base stats
Edit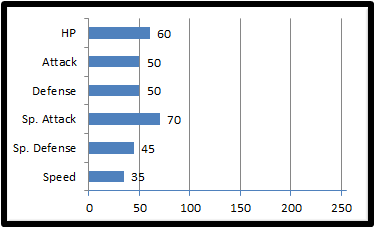 Base Stat Total: 310
Game locations
Edit
Given by Prof. Birch as a starter
Mirage Island
Type effectiveness
Edit
Damaged normally by:
Weak to:
Immune to:
Resistant to:

Normal

Fighting

Flying

Poison

Ghost

Electric

Psychic

Dragon

Dark

Digital

Ground

Rock

Water

Cosmic

None

Bug

Steel

Grass

Fire

Ice

Fairy
Learnset

Edit
Bold indicates a move that will receive STAB when used by Tindle.
Italic indicates a move that will receive STAB when used by an evolution of Tindle.
Moves by leveling up

| Level | Move |
| --- | --- |
| 1 | Tackle |
| 5 | Leer |
| 7 | Ember |
| 11 | Glare |
| 15 | Fire Spin |
| 20 | Flame Wheel |
| 24 | Harden |
| 29 | Sunny Day |
Moves by TM/HM

| TM/HM | Move |
| --- | --- |
| TM10 | Hidden Power |
| TM11 | Sunny Day |
| TM21 | Frustration |
| TM22 | SolarBeam |
| TM27 | Return |
| TM33 | Reflect |
| TM35 | Flamethrower |
| TM38 | Fire Blast |
| TM42 | Facade |
| TM43 | Secret Power |
| TM44 | Rest |
| TM45 | Attract |
| TM50 | Overheat |
Moves by breeding
Move
Substitute
Bide
Endure
Blast Burn
Acid Armor
Calm Mind