Sturmin
Worm Pokémon

Basic Info

Type
Bug
Abilities
Shield Dust
Evolves From
None
Evolves Into
Coopa

Additional Info

Held Items
None
Egg Groups
Bug
Hatching Time
~4080 steps
Catch Rate
255
Gender Ratio
50% male
Height
0.3 m
Weight
2.2 kg
Leveling Rate
Medium-Fast
Base XP Yield
52
EV Yields
+1 Speed
Pokédex Color
Red
Sturmin is a Bug-type Pokémon. Sturmin will evolve into either Coopa or Pacoon starting at level 8 depending on its personality value. From there, Coopa or Pacoon can each evolve into three different Pokémon.
Coopa will evolve into:
Pacoon will evolve into:
Sheeny when exposed to a Frozen Stone.
Herculant when exposed to a Toxic Stone
Sectora when exposed to a Moss Stone.
Pokédex entry
Edit
When STURMIN come across another of its kind, they will grab each other's tails in a sort of greeting. These POKéMON are very social and are often seen travelling in larger groups.
Base stats
Edit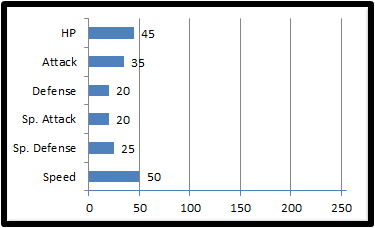 Base Stat Total: 195
Game locations
Edit
N/A (Early routes, Petalburg Woods)
Type effectiveness
Edit
Damaged normally by:
Weak to:
Immune to:
Resistant to:

Normal

Poison

Bug

Ghost

Steel

Water

Electric

Psychic

Ice

Dragon

Dark

Fairy

Cosmic

Digital

Flying

Rock

Fire

None

Fighting

Ground

Grass
Learnset

Edit
Bold indicates a move that will receive STAB when used by Sturmin.
Italic indicates a move that will receive STAB when used by an evolution of Sturmin.
Moves by leveling up

| Level | Move |
| --- | --- |
| 1 | String Shot |
| 3 | Tackle |
| 8 | Leech Life |
Moves by TM/HM

| TM/HM | Move |
| --- | --- |
| TM21 | Frustration |
| TM27 | Return |
Community content is available under
CC-BY-SA
unless otherwise noted.