Snumick
Tumor Pokémon

Basic Info

Type
Psychic
Abilities
Levitate
Evolves From
Snole (?)
Evolves Into
Rexick

Additional Info

Held Items
None
Egg Groups
Can't breed
Hatching Time
-
Catch Rate
190
Gender Ratio
Genderless
Height
0.4 m
Weight
10 kg
Leveling Rate
Medium-Fast
Base XP Yield
80
EV Yields
+1 Sp. Attack
Pokédex Color
Purple
Snumick is a Psychic-type Pokémon. It appears in the player's party when Snole evolves into Arcton, starting at level 18, if the player has a spare slot in their party. It evolves into either Rexick when exposed to a Sun Stone, or into Tumick when exposed to a Moon Stone.
Pokédex entry
Edit
SNUMICK never seem to be aware of what is going on around them. It can prove difficult to get them to obey commands, as it sometimes seems as if they are not even aware that they are in a battle.
Base stats
Edit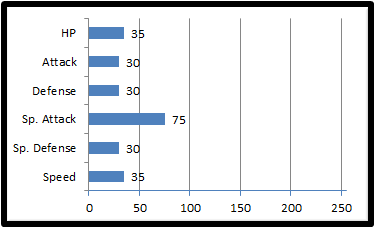 Base Stat Total: 235
Game locations
Edit
Type effectiveness
Edit
Damaged normally by:
Weak to:
Immune to:
Resistant to:

Normal

Flying

Poison

Rock

Steel

Fire

Water

Grass

Electric

Ice

Dragon

Fairy

Bug

Ghost

Dark

Digital

Ground

Cosmic

Fighting

Psychic
Learnset

Edit
Bold indicates a move that will receive STAB when used by Snumick.
Italic indicates a move that will receive STAB when used by an evolution of Snumick.
Moves by leveling up

| Level | Move |
| --- | --- |
| 1 | Tackle |
| 10 | Rest |
| 19 | Psybeam |
| 23 | Hypnosis |
| 27 | Confuse Ray |
| 32 | Dream Eater |
| 37 | Destiny Bond |
| 43 | Amnesia |
| 48 | Star Shot |
| 51 | Psychic |
Moves by TM/HM

| TM/HM | Move |
| --- | --- |
| TM04 | Calm Mind |
| TM06 | Toxic |
| TM07 | Hail |
| TM10 | Hidden Power |
| TM13 | Ice Beam |
| TM14 | Blizzard |
| TM16 | Light Screen |
| TM18 | Rain Dance |
| TM20 | Safeguard |
| TM21 | Frustration |
| TM27 | Return |
| TM29 | Psychic |
| TM30 | Shadow Ball |
| TM32 | Double Team |
| TM33 | Reflect |
| TM42 | Facade |
| TM43 | Secret Power |
| TM44 | Rest |
| TM48 | Moonblast |