Skeleteak
Withered Pokémon

Basic Info

Type
Grass/Ghost
Abilities
Intimidate

Shadow Tag

Evolves From
Morteak
Evolves Into
None

Additional Info

Held Items
None
Egg Groups
Plant

Amorphous

Hatching Time
-
Catch Rate
55
Gender Ratio
50% male
Height
1.8 m
Weight
110.4 kg
Leveling Rate
Medium-Fast
Base XP Yield
212
EV Yields
+2 Attack

+1 Defense

Pokédex Color
Brown
Skeleteak is a dual-typed Grass/Ghost Pokémon. It evolves from Morteak when exposed to a Moon Stone. It is one of the final forms of Budora, the other being Heliora.
Pokédex entry
Edit
The antler-like protusions on SKELETEAK's head act as roots. They can extend them and pierce big trees and absorb all energy from them, leaving the tree withered and dead.
Base stats
Edit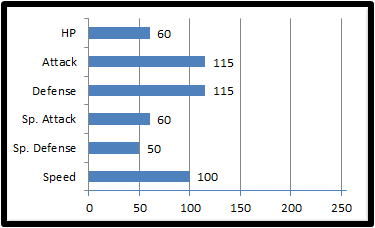 Base Stat Total: 500
Game locations
Edit
Type effectiveness
Edit
Damaged normally by:
Weak to:
Immune to:
Resistant to:

Rock

Steel

Psychic

Dragon

Fairy

Poison

Bug

Flying

Fire

Ice

Cosmic

Ghost

Dark

Normal

Fighting

Ground

Water

Grass

Electric

Digital
Learnset

Edit
Bold indicates a move that will receive STAB when used by Skeleteak.
Italic indicates a move that will receive STAB when used by an evolution of Skeleteak.
Moves by leveling up

| Level | Move |
| --- | --- |
| 1 | Disable |
| 1 | Slash |
| 1 | Destiny Bond |
| 1 | Shadow Ball |
Moves by TM/HM

| TM/HM | Move |
| --- | --- |
| TM04 | Calm Mind |
| TM06 | Toxic |
| TM08 | Bulk Up |
| TM10 | Hidden Power |
| TM12 | Taunt |
| TM15 | Hyper Beam |
| TM17 | Protect |
| TM18 | Rain Dance |
| TM19 | Giga Drain |
| TM21 | Frustration |
| TM22 | SolarBeam |
| TM23 | Iron Tail |
| TM27 | Return |
| TM28 | Dig |
| TM29 | Psychic |
| TM30 | Shadow Ball |
| TM32 | Double Team |
| TM36 | Sludge Bomb |
| TM40 | Aerial Ace |
| TM41 | Torment |
| TM42 | Facade |
| TM43 | Secret Power |
| TM44 | Rest |
| TM45 | Attract |
| TM46 | Thief |
| TM48 | Moonblast |
| TM49 | Crunch |
| HM01 | Razor Chop |
| HM04 | Strength |
| HM06 | Rock Smash |