Sheeny
Snowbug Pokémon

Basic Info

Type
Bug/Ice
Abilities
Sturdy

CompoundEyes

Evolves From
Pacoon
Evolves Into
None

Additional Info

Held Items
NeverMeltIce
Egg Groups
Bug
Hatching Time
-
Catch Rate
45
Gender Ratio
50% male
Height
1.1 m
Weight
21.3 kg
Leveling Rate
Medium-Fast
Base XP Yield
159
EV Yields
+1 Attack

+2 Sp. Attack

Pokédex Color
White
Sheeny is a dual-typed Bug/Ice Pokémon. It evolves from Pacoon when exposed to a Frozen Stone. It is one of the final forms of Sturmin, the others being Wingsect, Steetleton, Beatric, Herculant and Sectora.
Pokédex entry
Edit
SHEENY like to make their nests buried deep in the snow. These POKéMON wear an exo-skeleton that makes them capable of surviving very extreme temperatures.
Base stats
Edit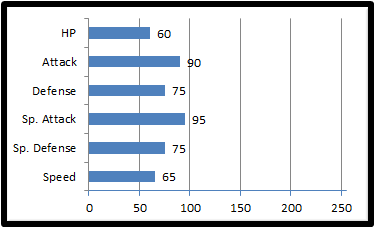 Base Stat Total: 460
Game locations
Edit
Type effectiveness
Edit
Damaged normally by:
Weak to:
Immune to:
Resistant to:

Normal

Poison

Bug

Ghost

Steel

Water

Electric

Psychic

Dragon

Dark

Fairy

Fighting

Flying

Rock

Fire

Digital

Ground

Grass

Ice

Cosmic
Learnset

Edit
Bold indicates a move that will receive STAB when used by Sheeny.
Italic indicates a move that will receive STAB when used by an evolution of Sheeny.
Moves by leveling up

| Level | Move |
| --- | --- |
| 1 | String Shot |
| 1 | Ice Beam |
| 5 | Tackle |
| 8 | Leech Life |
| 20 | Focus Energy |
| 24 | Ice Ball |
| 29 | Powder Snow |
| 33 | Mist |
| 37 | Fury Cutter |
| 41 | Endure |
| 45 | Ice Punch |
| 49 | Pin Missile |
| 53 | Silver Wind |
| 57 | Sheer Cold |
Moves by TM/HM

| TM/HM | Move |
| --- | --- |
| TM01 | Focus Punch |
| TM04 | Calm Mind |
| TM07 | Hail |
| TM08 | Bulk Up |
| TM10 | Hidden Power |
| TM13 | Ice Beam |
| TM14 | Blizzard |
| TM15 | Hyper Beam |
| TM17 | Protect |
| TM18 | Rain Dance |
| TM19 | Giga Drain |
| TM20 | Safeguard |
| TM21 | Frustration |
| TM27 | Return |
| TM31 | Brick Break |
| TM32 | Double Team |
| TM42 | Facade |
| TM43 | Secret Power |
| TM44 | Rest |
| TM46 | Thief |
| HM04 | Strength |
| HM06 | Rock Smash |