Repteaf
Leaf Snake Pokémon

Basic Info

Type
Grass
Abilities
Overgrow
Evolves From
Leguis
Evolves Into
Soariper

Additional Info

Held Items
None
Egg Groups
Monster
Hatching Time
-
Catch Rate
45
Gender Ratio
87.5% male
Height
1.2 m
Weight
31.6 kg
Leveling Rate
Medium-Slow
Base XP Yield
141
EV Yields
+1 Sp. Atk.

+1 Sp. Def.

Pokédex Color
Green
Repteaf is a Grass-type Pokémon. It evolves from Leguis starting at level 16 and evolves into Soariper starting at level 34, which evolves into Anakondra when exposed to a Legend Stone.
Pokédex entry
Edit
REPTEAF mostly live high up in tree tops, where they use their leaves as wings to glide from one tree to the the next. They are able to quickly regrow their leaves.
Base stats
Edit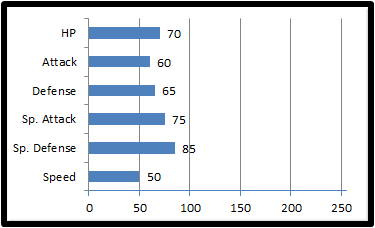 Base Stat Total: 405
Game locations
Edit
Type effectiveness
Edit
Damaged normally by:
Weak to:
Immune to:
Resistant to:

Normal

Fighting

Rock

Ghost

Steel

Psychic

Dragon

Dark

Fairy

Flying

Poison

Bug

Fire

Ice

Cosmic

None

Ground

Water

Grass

Electric

Digital
Bold indicates a move that will receive STAB when used by Repteaf.
Italic indicates a move that will receive STAB when used by an evolution of Repteaf.
Moves by leveling up

| Level | Move |
| --- | --- |
| 1 | Wrap |
| 1 | Leer |
| 1 | Razor Leaf |
| 1 | Agility |
| 16 | Wing Attack |
| 21 | Bullet Seed |
| 26 | Magical Leaf |
| 30 | Slam |
| 34 | Synthesis |
| 39 | Focus Energy |
| 44 | Leaf Blade |
| 52 | Spore |
Moves by TM/HM

| TM/HM | Move |
| --- | --- |
| TM06 | Toxic |
| TM10 | Hidden Power |
| TM11 | Sunny Day |
| TM12 | Taunt |
| TM16 | Light Screen |
| TM18 | Rain Dance |
| TM19 | Giga Drain |
| TM20 | Safeguard |
| TM21 | Frustration |
| TM22 | SolarBeam |
| TM23 | Iron Tail |
| TM27 | Return |
| TM32 | Double Team |
| TM36 | Sludge Bomb |
| TM37 | Sandstorm |
| TM40 | Aerial Ace |
| TM42 | Facade |
| TM43 | Secret Power |
| TM44 | Rest |
| TM45 | Attract |
| TM47 | Steel Wing |