Meduzoa
Octopus Pokémon

Basic Info

Type
Water/Poison
Abilities
Effect Spore
Evolves From
Darison
Evolves Into
None

Additional Info

Held Items
Green Shard
Egg Groups
Water 3

Water 2

Hatching Time
-
Catch Rate
45
Gender Ratio
50% male
Height
3.4 m
Weight
67 kg
Leveling Rate
Medium-Slow
Base XP Yield
194
EV Yields
+2 HP

+1 Sp. Defense

Pokédex Color
Blue
Meduzoa is a dual-typed Water/Poison Pokémon. It evolves from Darison when exposed to a Water Stone. It is the final form of Duon.
Pokédex entry
Edit
From the tip of their tentacles, MEDUZOA excrete a horrible, toxic fluid, making the tips glow brightly. They mostly keep to themselves in dark caverns in the deep sea.
Base stats
Edit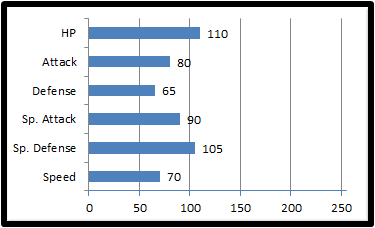 Base Stat Total: 520
Game locations
Edit
Evovle Darison.
A few later water routes, mainly by fishing (?)
Type effectiveness
Edit
Damaged normally by:
Weak to:
Immune to:
Resistant to:

Normal

Flying

Rock

Ghost

Grass

Dragon

Dark

Cosmic

Digital

Ground

Electric

Psychic

None

Fighting

Poison

Bug

Steel

Fire

Water

Ice

Fairy
Learnset

Edit
Bold indicates a move that will receive STAB when used by Meduzoa.
Italic indicates a move that will receive STAB when used by an evolution of Meduzoa.
Moves by leveling up

| Level | Move |
| --- | --- |
| 1 | Slam |
| 1 | Wrap |
| 1 | Sludge Bomb |
| 1 | Water Pulse |
Moves by TM/HM

| TM/HM | Move |
| --- | --- |
| TM03 | Water Pulse |
| TM04 | Calm Mind |
| TM06 | Toxic |
| TM07 | Hail |
| TM08 | Bulk Up |
| TM09 | Glitter Beam |
| TM10 | Hidden Power |
| TM12 | Taunt |
| TM13 | Ice Beam |
| TM14 | Blizzard |
| TM15 | Hyper Beam |
| TM17 | Protect |
| TM18 | Rain Dance |
| TM20 | Safeguard |
| TM21 | Frustration |
| TM26 | Earthquake |
| TM27 | Return |
| TM32 | Double Team |
| TM36 | Sludge Bomb |
| TM39 | Rock Tomb |
| TM41 | Torment |
| TM42 | Facade |
| TM43 | Secret Power |
| TM44 | Rest |
| TM45 | Attract |
| TM46 | Thief |
| HM03 | Surf |
| HM04 | Strength |
| HM06 | Rock Smash |
| HM07 | Waterfall |
| HM08 | Dive |