Flazie
Blaze Pokémon

Basic Info

Type
Fire
Abilities
Blaze

Run Away

Evolves From
None
Evolves Into
Flazurn

Additional Info

Held Items
Charcoal
Egg Groups
Fairy
Hatching Time
~5355 steps
Catch Rate
190
Gender Ratio
50% male
Height
0.7 m
Weight
12.1 kg
Leveling Rate
Medium-Slow
Base XP Yield
88
EV Yields
+1 Sp. Attack
Pokédex Color
Blue
Flazie is a Fire-type Pokémon. It evolves into Flazurn starting at level 18, which will evolve into either Martiazie or Neurazie starting at level 32, depending on its personality value.
Pokédex entry
Edit
The flame on top of FLAZIE's head indicates its mood. If it is satisfied, the flame will burn well. When sad, the flame will hardly burn, but when enraged or thrilled, the flame enlarges and burns intensely.
Base stats
Edit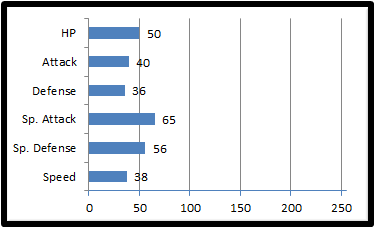 Base Stat Total: 285
Game locations
Edit
Fiery Path
Routes 113, 114
Type effectiveness
Edit
Damaged normally by:
Weak to:
Immune to:
Resistant to:

Normal

Fighting

Flying

Poison

Ghost

Electric

Psychic

Dragon

Dark

Digital

Ground

Rock

Water

Cosmic

None

Bug

Steel

Grass

Fire

Ice

Fairy
Learnset

Edit
Bold indicates a move that will receive STAB when used by Flazie.
Italic indicates a move that will receive STAB when used by an evolution of Flazie.
Moves by leveling up

| Level | Move |
| --- | --- |
| 1 | Bide |
| 7 | Ember |
| 10 | Tackle |
| 14 | Growl |
| 19 | Fire Spin |
| 22 | Sunny Day |
| 29 | Flamethrower |
Moves by TM/HM

| TM/HM | Move |
| --- | --- |
| TM04 | Calm Mind |
| TM08 | Bulk Up |
| TM10 | Hidden Power |
| TM11 | Sunny Day |
| TM12 | Taunt |
| TM21 | Frustration |
| TM27 | Return |
| TM32 | Double Team |
| TM35 | Flamethrower |
| TM38 | Fire Blast |
| TM41 | Torment |
| TM42 | Facade |
| TM43 | Secret Power |
| TM44 | Rest |
| TM45 | Attract |
| TM46 | Thief |
| TM50 | Overheat |
Moves by breeding
Move
Light Screen
Meditate
Rolling Kick
Encore
SmellingSalt
Counter
Will-O-Wisp