Curroctum
Nuclear Pokémon

Basic Info

Type
Dark/Electric
Abilities
Levitate
Evolves From
Corunt
Evolves Into
None

Additional Info

Held Items
Light Ball
Egg Groups
Mineral
Hatching Time
-
Catch Rate
75
Gender Ratio
50% male
Height
1.5 m
Weight
42.1 kg
Leveling Rate
Medium-Fast
Base XP Yield
180
EV Yields
+2 Defense

+1 Sp. Attack

Pokédex Color
Yellow
Curroctum is a dual-typed Dark/Electric Pokémon. It evolves from Corunt when exposed to a Mineralstone. It is the final form of Noctic.
Pokédex entry
Edit
When angered, this Pokémon will discharge and blow itself up, usually causing huge explosions. They recharge during thunderstorms, where they bury their metal spheres in the ground to absorb electricity.
Base stats
Edit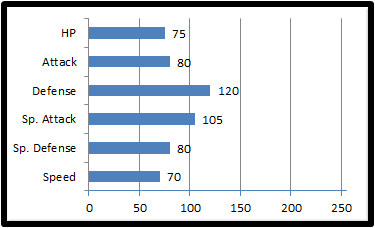 Base Stat Total: 530
Game locations
Edit
Type effectiveness
Edit
Damaged normally by:
Weak to:
Immune to:
Resistant to:

Normal

Poison

Rock

Fire

Water

Grass

Ice

Dragon

Fighting

Bug

Fairy

Psychic

Ground

Ghost

Dark

Flying

Steel

Electric
Learnset

Edit
Bold indicates a move that will receive STAB when used by Curroctum.
Italic indicates a move that will receive STAB when used by an evolution of Curroctum.
Moves by leveling up

| Level | Move |
| --- | --- |
| 1 | Thunderbolt |
| 1 | Metal Blast |
| 1 | Crunch |
| 1 | Iron Defense |
Moves by TM/HM

| TM/HM | Move |
| --- | --- |
| TM01 | Focus Punch |
| TM04 | Calm Mind |
| TM05 | Roar |
| TM06 | Toxic |
| TM08 | Bulk Up |
| TM10 | Hidden Power |
| TM12 | Taunt |
| TM15 | Hyper Beam |
| TM16 | Light Screen |
| TM17 | Protect |
| TM20 | Safeguard |
| TM21 | Frustration |
| TM24 | Thunderbolt |
| TM25 | Thunder |
| TM27 | Return |
| TM30 | Shadow Ball |
| TM31 | Brick Break |
| TM32 | Double Team |
| TM33 | Reflect |
| TM34 | Shock Wave |
| TM39 | Rock Tomb |
| TM40 | Aerial Ace |
| TM41 | Torment |
| TM42 | Facade |
| TM43 | Secret Power |
| TM44 | Rest |
| TM45 | Attract |
| TM46 | Thief |
| TM48 | Moonblast |
| TM49 | Crunch |
| HM04 | Strength |
| HM05 | Blitz |
| HM06 | Rock Smash |