Corunt
Bomb Pokémon

Basic Info

Type
Dark/Electric
Abilities
Levitate
Evolves From
Noctic
Evolves Into
Curroctum

Additional Info

Held Items
Light Ball
Egg Groups
Mineral
Hatching Time
-
Catch Rate
190
Gender Ratio
50% male
Height
0.8 m
Weight
11.5 kg
Leveling Rate
Medium-Fast
Base XP Yield
82
EV Yields
+2 Defense
Pokédex Color
Black
Corunt is a dual-typed Dark/Electric Pokémon. It evovles from Noctic when leveled up with high friendship during the night and evolves into Curroctum when exposed to a Mineralstone.
Pokédex entry
Edit
These Pokémon hover a couple inches above the ground, even when they sleep. During thunderstorms, groups of CORUNT can be seen soaring high up in the sky to form odd constellations of pure electricity.
Base stats
Edit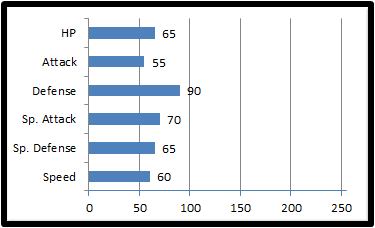 Base Stat Total: 405
Game locations
Edit
Type effectiveness
Edit
Damaged normally by:
Weak to:
Immune to:
Resistant to:

Normal

Poison

Rock

Fire

Water

Grass

Ice

Dragon

Fighting

Bug

Fairy

Psychic

Ground

Ghost

Dark

Flying

Steel

Electric
Learnset

Edit
Bold indicates a move that will receive STAB when used by Corunt.
Italic indicates a move that will receive STAB when used by an evolution of Corunt.
Moves by leveling up

| Level | Move |
| --- | --- |
| 1 | Tackle |
| 5 | Harden |
| 9 | ThunderShock |
| 15 | Rollout |
| 19 | Iron Defense |
| 25 | SelfDestruct |
| 29 | Shock Wave |
| 35 | Thunder Wave |
| 39 | Taunt |
| 43 | Thunderbolt |
| 46 | Thunder |
| 51 | Metal Sound |
Moves by TM/HM

| TM/HM | Move |
| --- | --- |
| TM04 | Calm Mind |
| TM06 | Toxic |
| TM08 | Bulk Up |
| TM10 | Hidden Power |
| TM12 | Taunt |
| TM17 | Protect |
| TM21 | Frustration |
| TM24 | Thunderbolt |
| TM25 | Thunder |
| TM27 | Return |
| TM32 | Double Team |
| TM34 | Shock Wave |
| TM40 | Aerial Ace |
| TM41 | Torment |
| TM42 | Facade |
| TM43 | Secret Power |
| TM44 | Rest |
| TM45 | Attract |
| TM46 | Thief |
| HM05 | Blitz |
| HM06 | Rock Smash |