Arcton
Arctic Pokémon

Basic Info

Type
Ice/Fighting
Abilities
Guts

Clear Body

Evolves From
Snole
Evolves Into
None

Additional Info

Held Items
Frozen Stone
Egg Groups
Mineral

Human-Like

Hatching Time
~5355 steps
Catch Rate
75
Gender Ratio
65% male
Height
1.7 m
Weight
60 kg
Leveling Rate
Medium-Fast
Base XP Yield
176
EV Yields
+1 Attack

+1 Sp. Attack

Pokédex Color
White
Arcton is a dual-typed Ice/Fighting Pokémon. It evolves from Snole starting at level 18. Its evolution can trigger the creation of a second Pokémon, Snumick, if the player has a spare slot in their party.
Snumick evolves into either Rexick when exposed to a Sun Stone, or into Tumick when exposed to a Moon Stone.
Pokédex entry
Edit
ARCTON can extend their arms to deliver punches surprisingly fast. Having lost their tumor upon evolution, they no longer possess the same psychic powers, as they did before.
Base stats
Edit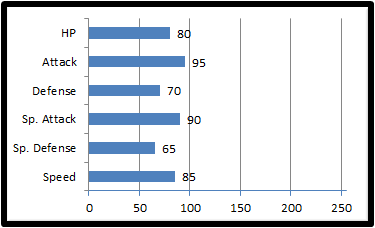 Base Stat Total: 485
Game locations
Edit
Shoal Cave (Bottom Floor)
Type effectiveness
Edit
Damaged normally by:
Weak to:
Immune to:
Resistant to:

Normal

Poison

Ground

Rock

Ghost

Water

Grass

Electric

Dragon

Fighting

Flying

Steel

Fire

Psychic

Fairy

Digital

Bug

Ice

Dark

Cosmic
Learnset

Edit
Bold indicates a move that will receive STAB when used by Arcton.
Italic indicates a move that will receive STAB when used by an evolution of Arcton.
Moves by leveling up

| Level | Move |
| --- | --- |
| 1 | Tackle |
| 1 | Leer |
| 1 | Mist |
| 5 | Quick Attack |
| 19 | Double Kick |
| 22 | Focus Energy |
| 26 | Ice Ball |
| 31 | Rollout |
| 37 | Ice Punch |
| 42 | Aurora Beam |
| 47 | Brick Break |
| 53 | Skull Bash |
Moves by TM/HM

| TM/HM | Move |
| --- | --- |
| TM01 | Focus Punch |
| TM03 | Water Pulse |
| TM04 | Calm Mind |
| TM05 | Roar |
| TM07 | Hail |
| TM08 | Bulk Up |
| TM10 | Hidden Power |
| TM12 | Taunt |
| TM13 | Ice Beam |
| TM14 | Blizzard |
| TM15 | Hyper Beam |
| TM17 | Protect |
| TM18 | Rain Dance |
| TM20 | Safeguard |
| TM21 | Frustration |
| TM26 | Earthquake |
| TM27 | Return |
| TM31 | Brick Break |
| TM32 | Double Team |
| TM39 | Rock Tomb |
| TM40 | Aerial Ace |
| TM42 | Facade |
| TM43 | Secret Power |
| TM44 | Rest |
| TM45 | Attract |
| TM46 | Thief |
| HM01 | Razor Chop |
| HM04 | Strength |
| HM06 | Rock Smash |